Our former blog for the website
electrocomics.com
was located here:
http://electrocomics.livejournal.com/
Some time ago stupid ads appeared on the side of our blog. because electrocomics is strictly ad free, we had to change the location. to find the old posts, we refer you to the above link.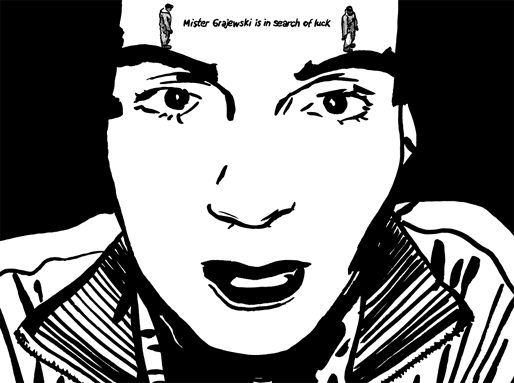 2009 was an exciting year for electrocomics. There was a
big exhibition on the next-comic festival
in linz/austria. There were some great e-book releases, like the breathtaking e-book
"art is over! If you want it! by Oliver Grajewsiky
, or the graphic novel
"canimus"
by Knut Larsson, or the beautiful
"Maria and the milkchild" by Alessia Conidi
.
One graphic novel of myself, prepublished in chapters while working on it, was published in October 2009 by the German publisher
avant-verlag: "Heute ist der letzte Tag vom Rest deines Lebens".
Some time before the release we made an offer to readers on electrocomics, to order the book for a special prize. There were over 80 orders before the book was even published!
Two months after the release we had to do a second printrun. There were a lot of enthusiastic reviews in German, Austrian and Swiss media, but here you can read one in english,
written by Christian Gasser (written on demand of Paul Gravett, who asked Journalists for their favorite comics in 2009):
What a debut! Until now, the Austrian born and Berlin-based Ulli Lust was mainly known for the journalistic work she did within the Monogatari-group. Here she tells the story of a trip through Italy. In 1984, Ulli and Edit, two 17-year old punk girls, travelled from Vienna to Sicily without passports, money or luggage, living in the streets and begging. Heute ist der letzte Tag vom Rest deines Lebens (Today is the last day of the rest of your life) begins like a romantic hymn to the free and wild life - and gradually turns into a gripping nightmare, ending with rape, prostitution, drugs and Mafia. Ulli Lust tells this dark initiation-trip of two rather naive girls without any sentimentality or complacency, and infuses it with a healthy dose of black humour. Her storytelling is dense and breathless, and her feverish, immediate and lively drawings create a flow the reader can't escape during the 464 pages the story takes to unfold and come to its bitter ending."